30 Financial Leaders join EIF Leadership Program at Saïd Business School, Oxford University
June 7, 2023
2023-07-04 14:13
30 Financial Leaders join EIF Leadership Program at Saïd Business School, Oxford University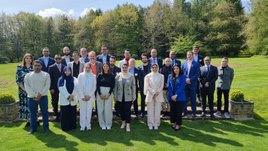 30 Financial Leaders join EIF Leadership Program at Saïd Business School, Oxford University
The Emirates Institute of Finance (EIF), a regional leader in banking & finance education and training, has announced the launch of a prestigious 'Leadership Development Program', which is being held in partnership with the Saïd Business School, University of Oxford. The program is designed to train national leaders in the financial sector on new skills related to Strategic Leadership, Personal Leadership and Organizational leadership, with a focus on Disruption throughout the program.
Participants in the Leadership Development Program are from Emirati and Bahraini supervisory bodies and financial institutions. The program was attended by 30 leaders from a range of UAE-based institutions, including the UAE Central Bank, United Arab Bank, HSBC, Standard Chartered Bank, Emirates Islamic Bank, First Abu Dhabi Bank, Emirates NBD, National Bank of Fujairah, Tanfeeth, as well as representatives from the Bahrain Stock Exchange and Benefit Bay Company.
The Institute and the University of Oxford have jointly developed the program, which is held over 8 days in May. The aim of the program is to train and develop outstanding leaders in the field of financial services from the Middle East. Specifically, the program aims to develop leaders on the skills of strategic leadership in the era of disruption and financial challenges, focusing on the development of winning strategies and navigating the challenges faced by the financial and banking sector, as well as leading companies and teams during periods of disruption.
Noura Al Balooshi, Acting Director of the Emirates Financial Institute, commented on the announcement, saying, "Through our partnership with the Saïd Business School at Oxford University, we aim to upgrade the skills of leaders in the banking and financial sector in the region. We are committed to providing leaders with the necessary skills and knowledge to ensure their growth, as well as the growth of their organizations."
She went on to encourage all leaders in the financial and banking sector, as well as financial institutions in the country, to participate in this program and nominate qualified team members to upgrade their skills from middle to high level. She emphasized the benefits of this global program in achieving sustainable growth, inspiring effective leadership, and instilling professional development.
The Leadership Development Program at the Saïd Business School, at the University of Oxford represents an exciting opportunity for leaders in the financial and banking sector in the UAE and Bahrain. It is a testament to the commitment of the Emirates Institute of Finance investing in the growth and development of the industry's leaders, as well as the industry.