Emirates Institute of Finance, Commercial Bank of Dubai commemorate graduation of 48 Young Emiratis from 'Bedayati' Programme
August 9, 2023
2023-08-09 11:57
Emirates Institute of Finance, Commercial Bank of Dubai commemorate graduation of 48 Young Emiratis from 'Bedayati' Programme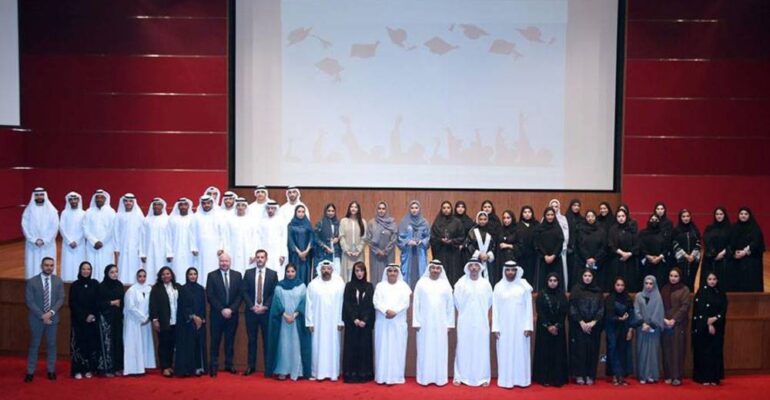 Emirates Institute of Finance, Commercial Bank of Dubai commemorate graduation of 48 Young Emiratis from 'Bedayati' Programme
The Emirates Institute of Finance (EIF) joined hands with the Commercial Bank of Dubai to celebrate the remarkable achievement of 48 UAE National high school graduates who have successfully completed the esteemed "Bedayati" Programme. This initiative embodies a strategic commitment to fostering young talents and aligns with the UAE's vision of Emiratisation.
The "Bedayati" programme, a rigorous and transformative six-month learning and development journey, is meticulously designed to impart intensive training, equipping participants with the indispensable knowledge and skills essential for excelling in the dynamic banking industry.
Distinguished by its distinctive emphasis on holistic personal and professional growth, the programme encompassed a diverse array of disciplines, encompassing banking operations, branch automation, customer service, and much more. Moreover, the participants received invaluable on-the-job training to garner practical experience, ensuring they are well-prepared for their pivotal roles within the bank.
Noura Alblooshi, Acting General Manager of EIF, stated, "The participation of EIF in the process of training the 'Badayati' programme participants came as part of the Institute's efforts to play a leading and effective role in the Emiratisation agenda implemented by the wise government. Today, we are pleased to announce that 48 trainees from Commercial Bank of Dubai have successfully completed this programme, which is a comprehensive and integrated educational experience that contributes to improving their general and specialised skills and working to meet the requirements of the growing banking system in the country."
Sultan Al Mahmood, Chief Human Resources Officer at CBD, said, "As a national bank, we take immense pride in our support of the UAE's visionary Emiratisation efforts. A key focus for CBD is to equip the next generation of UAE National talent with the knowledge and skills essential for excelling in the dynamic banking and financial services industry, transcending boundaries to contribute to various sectors. The Bedayati programme serves as a crucial pillar of our comprehensive talent development strategy, epitomising our unwavering commitment to empowering and nurturing the future Emirati leaders who have successfully completed the programme.
"We extend our congratulations and a warm welcome to our accomplished graduates. Their achievements during the Bedayati programme showcase their dedication and aptitude, and we are excited to witness their continued growth and impact in the industry. These talented individuals represent the future of our nation's workforce, and we are eager to see them play a pivotal role in driving our organisation and the country towards greater heights."
Through its various training programmes, the Emirates Institute of Finance is working to promote Emiratisation in the financial and banking sector, and prepare Emirati cadres in various other fields, including audit and compliance, wealth management and investment, risk and credit, trade finance, banking services for small and medium-sized enterprises, cybersecurity, data science, programming, data engineering, and financial technology.