Second Ethraa Career Fair supports banking, financial sector with 400 job openings for citizens
August 9, 2023
2023-08-09 11:51
Second Ethraa Career Fair supports banking, financial sector with 400 job openings for citizens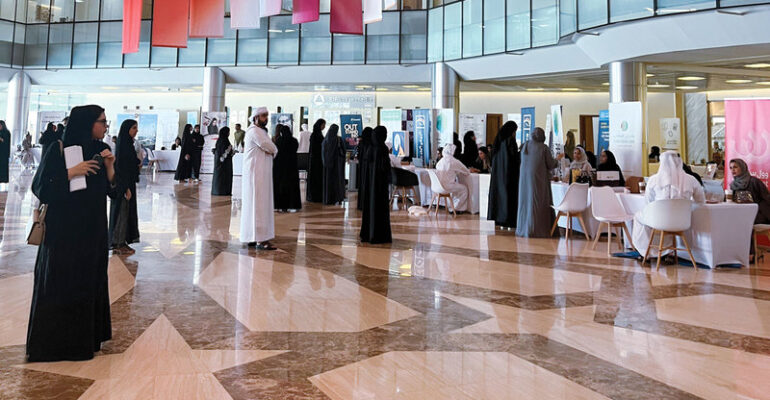 Second Ethraa Career Fair supports banking, financial sector with 400 job openings for citizens
The second edition of the Ethraa Career Fair, organised by the Emirates Institute of Finance (EIF), the leading regional institute in financial and banking education, began today at the institute's headquarters in Dubai International Academic City.
The two-day fair features the participation of more than 40 prominent banks and insurance, exchange and financial companies, and offers over 400 specialist job opportunities in the financial sector for high school and university graduates and experienced Emirati citizens.
The fair is part of the Ethraa Initiative, which aims to Emiratise the financial sector and provide 5,000 job opportunities by 2026, in line with the government's efforts to create job opportunities for citizens and empower citizens to actively participate in the national economy.
Saif Al Dhaheri, Assistant Governor for Strategy, Financial Infrastructure and Digital Transformation at the Central Bank of the UAE and Deputy Chairman of the Board of Directors of the EIF, said that the second Ethraa Job Fair is in line with the institute's strategic objectives for the 2023-2026 period, focussing on training, development, Emiratisation and smart human resource management.
The EIF, as the organising entity of the Ethraa Initiative, aims to create 5,000 job opportunities for Emirati citizens in the financial sector by 2026 and plays a key role in preparing 3,500 jobs to achieve an Emiratisation rate of 45 percent in the banking sector, as well as 1,500 jobs to reach an Emiratisation rate of 30 percent in the insurance sector, in addition to gradually increasing the Emiratisation rate in exchange houses and financial companies to 30 percent, he added.
In its first edition, held in May 2022, the fair attracted more than 50 major banks, insurance companies, exchange houses and fintech firms from the region. The institute's headquarters in Dubai and Abu Dhabi witnessed the wise participation of qualified Emirati talents actively seeking job opportunities in the financial sector.
The fair welcomed 3,184 visitors, with 1,792 attending in Abu Dhabi and 1,392 in Dubai, out of which 1,683 participated in assessments and job interviews with participating banks and insurance companies.