Emirates Institute of Finance and Oxford Saïd Business School to Shape Future Technology Leaders in Financial Sector
June 7, 2023
2023-07-04 14:13
Emirates Institute of Finance and Oxford Saïd Business School to Shape Future Technology Leaders in Financial Sector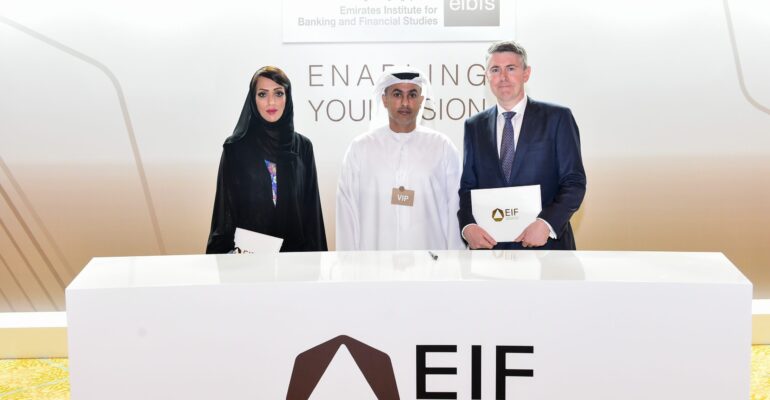 Emirates Institute of Finance and Oxford Saïd Business School to Shape Future Technology Leaders in Financial Sector
TheEmirates Institute of Finance (EIF), the leading independent training centre offering world-class education, training and allied services in banking and finance, and Saïd Business School at the University of Oxford, a global leader in Executive Education, have signed an agreement to design and deliver a comprehensive programme that will shape future technology leaders in the financial sector.
The course – Shaping Future Technology Leaders in Financial Services – was announced at the launch of the for 2023-2026 strategy for EIF, formerly known as the Emirates Institute for Banking and Financial Studies (EIBFS). It will be launched in July (2023) and aims to equip financial services professionals with the skills and knowledge necessary to navigate the sector's rapidly evolving technological landscape. The programme will cover financial services, technology, and disruption, delivered through a blend of face-to-face, virtual, and online teaching.
Noura Alblooshi, Acting General Manager of EIF, said: "The Shaping Future Technology Leaders in Financial Services Programme is a critical step forward in equipping our UAE national workforce in the banking and financial sector, and advancing the Emiratisation in the industry, in line with the directives of our wise leadership. Through such initiatives, we aim to create a strong, diversified, and sustainable financial services industry in the country."
Andrew Stephen, L'Oreal Professor of Marketing and Deputy Dean of Oxford Saïd, said: "We are delighted to collaborate with EIF to offer this groundbreaking programme, which will help develop a deeper understanding of the impact of technology on financial services."
The programme will be delivered by programme directors, Oxford Saïd faculty, offsite programme management, and an EdTech partner, with a Canvas Learning Management System (LMS) provided for the hosting of materials, pre-reading, and access to discussion forums. The programme will also incorporate multiple student assessment points and offer recognition via certification to participants who complete the modules and pass the assessments.
The course is expected to enroll 100 participants. Students who complete the full programme, comprising phases one, two, and three, will receive a certificate of attendance from Oxford Saïd. Participants who complete the two six-week online programmes will receive a recognition certificate.
The content includes The Oxford AI in Fintech and Open Banking Programme and Oxford Blockchain Strategy Programme, which will be delivered online, and Business Impact of Technology, Financial Services and Technology and Disruption, which will be delivered on-site in the UAE.
The programme, among other modules on offer at EIF, offer a unique opportunity for UAE nationals in the financial sector to enhance their knowledge and skills, through world class teaching.